Reservations & Rates
We have a 48 hour cancellation policy. If you must cancel less than 48 hours before your reservation date, cancellation fees totaling the cost of one night on the site you reserved, will apply. This means that in order to avoid cancellation fees for a Friday reservation, it must be cancelled before 3:00pm on Wednesday of the same week.
It is our policy that only one family and one camping unit (tent, trailer, motor home, hardtop, van, camper, etc) can set up on any one site. We define family as a group of people who reside at the same address.
Our check-in time is between 3:00pm and 8:00pm. Guests who arrive before 3:00pm may not be able to check in or may be charged an early check-in fee.
Guests who are late checking out, (after 1:00pm for campsites and after 11:00am for camping cabins and cottages) will be charged a late check-out fee.
A $15.00 non-refundable deposit is required to make a reservation. This can be done with a credit card on our online reservation site, over the phone or in person.
Call 1.800.589.2282 or 902.845.2340, visit 738 Upper Lakeville Road or use our easy to use online reservation system below: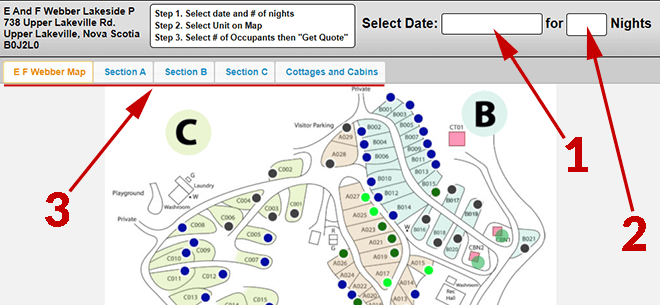 Open the reservation system
Choose a Date
Enter the Number of Days you wish to stay
Choose a Camp Site from one of the maps
Select the number of Occupants and click Get Quote at the bottom of the page
Our Rates for 2021 Season
W/E 15 AMP RV

$36.90 - 41.00

W/E 30 AMP RV

$39.60 - 44.00

FHU 15 AMP RV

$36.90 - 41.00

FHU 30 AMP RV

$39.60 - 44.00

FHU 30 AMP RV Lakeview

$43.20 - 48.00

Unserviced Tent

$33.30 - 37.00

Unserviced Lakeview

$36.00 - 40.00

Camping Cabins

$54.00 - 60.00

Cottages

$144.00 - 199.00